Over 100 people  joined us last Sunday, September 25th, to walk Bow Wow Woods with Tom Wessels, author of Reading the Forested Landscape. It was an amazing turnout from the community and an amazing day – we learned so much and are so grateful to Tom for sharing his wisdom and expertise with us.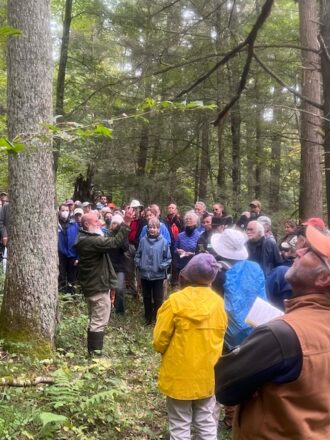 Bow Wow Woods – a 50-acre parcel of land just off Rte 41 on Bow Wow Rd – was recently acquired by Greenagers and will soon be protected  by a conservation restriction to be held by the Sheffield and Egremont Land Trusts. This important Conservation Restriction should be granted by year-end 2023. This fall and into spring 2023, Greenagers is working on improving the trails. The plan is to make the main trail a loop with a short spur down to the wetlands on the property.  Down the road, we plan to create a small parking area, build a kiosk, and make even more trail improvements. The diverse ecology of Bow Wow Woods makes it the perfect place for Greenagers to expand its programs of conservation education and youth-led land stewardship.
Greenagers and the land trusts of Egremont and Sheffield are nearing the end of a 1 million dollar fundraising campaign to protect and steward this special land for all time and for the permanent enjoyment of the communities we serve. Only $200,000 left to go!