Work With Us
Greenagers, through its paid employment programs, internships and apprenticeships, engages teens and young adults in meaningful work in environmental conservation, sustainable farming and natural resource management.
Trail crews
Our 2021 trail crew positions are now filled. Please check back with us next season!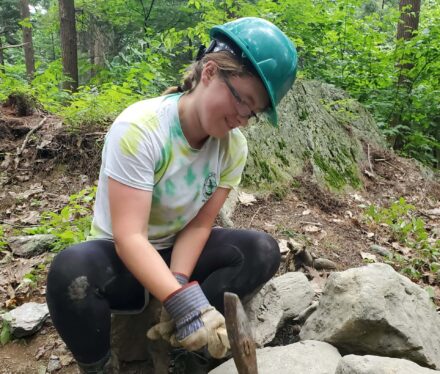 In the Berkshires and nearby New York State, our trail crews maintain existing trails and build new trails for the Appalachian Trail Conservancy, Trustees of Reservations, Columbia Land Conservancy and other conservation organizations.  Crew Members work on crews of 6-8 youth and one crew leader. Over the course of the season crew members:
learn the skills necessary to the various jobs with which they are tasked;
acquire knowledge and familiarity with the tools and vocabulary required to accomplish the work;
receive on-site training by community specialists, ranging in topic from species identification to stone wall construction;
engage in daily journaling exercises;
connect with community conservation partners;
find new areas of the Berkshires and Columbia County to know and love;
earn money – this is a real job with a starting wage of $13.50/hour;
and have a blast!
For 2021 season: we are accepting applications for trail crew members and trail crew leaders. Application deadline is May 28th, but we will begin hiring in early May, so get your application in early!
River Walk Stewardship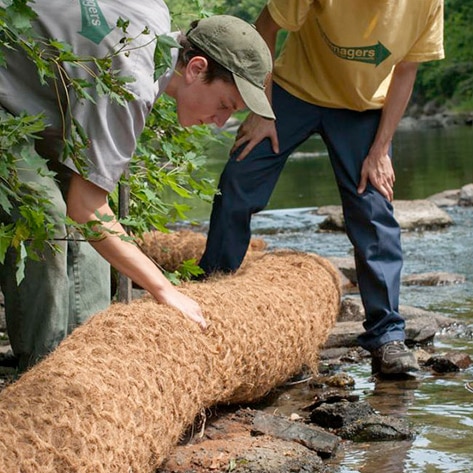 The River Walk Stewardship program connects apprentices with a unique National Recreation Trail, a greenway along the scenic Housatonic River in Great Barrington, MA.
In September of 2012, Greenagers became the official steward organization of the River Walk and as such is responsible for trail maintenance, trail work internships, volunteer days, and community outreach and education. Greenagers employs three youth each year to serve as River Walk Apprentices from April through November. Apprentices take care of weekly maintenance on the trail, help lead group tours and volunteer days, and receive training and mentorship by River Walk's on-staff Horticulturalist, Heather Cupo, and Greenagers' Conservation Director, Elia Del Molino, and Trails Manager, Eli Fry.
Volunteering
We partner with local trail and land organizations and Community Supported Agriculture Farms in Berkshire County to establish one-day projects for group involvement. Contact Us for details.