April Hill Conservation and Education Center is proud to offer ongoing workshops and classes for the community! Along with knowledgeable guests and Greenagers staff, our workshops cover a myriad of topics, all with the primary goal of teaching important skills, and connecting our community through food, farming and friends.
We acknowledge the importance of outdoor exploration during this time-however, we also adhere to guidelines of the CDC and State of Massachusetts. All events and workshops will be held outdoors. Masks and social distancing are required.
---
Wildlife tracking
Learn the basics of wildlife tracking with Elia Del Molino, the Conservation Director at Greenagers. The group will hike in and around April Hill in South Egremont hoping to discover spoor (track and sign) of bear, bobcat, weasel, porcupine, red fox, gray fox, coyote, and house cat. Mandatory RSVP to email hidden; JavaScript is required. Goodwill donations are welcome but not required!
Saturday February 13th, 10am
Saturday February 27th 10am
---
seed starting workshop for beginners
Learn all the basics for starting your own seedlings! Get advice for how to keep them growing at home, and when to transplant. Front Lawn Food Coordinator, Isamaya, will be leading the workshop and helping you get the most out of your home harvest. No experience necessary, just bring your desire to grow delicious, healthy food in your backyard!
Space is limited, please email
email hidden; JavaScript is required
for more information.
March 13th 10am
Suggested donation $30
Free for Front Lawn Food free garden recipients
---
Greet the seasons at april hill
Come experience the seasonal changes at April Hill. Meet Eli Fry, the Trails Coordinator, for a guided trip around the historic April Hill grounds and forest. We will discuss historical usage of the property, the natural environment that surrounds it, and how these aspects are integrated. Come for all four hikes to watch as the year unfolds. Please dress for the weather, bring water, and expect a moderate hike. Limited spaces available – please RSVP to email hidden; JavaScript is required  Goodwill donations welcome but not required.
Spring Equinox Hike – Saturday, March 20- 10am
Summer Solstice Hike – Saturday, June 19- 10am
Fall Equinox Hike – Saturday, September 25- 10am
Winter Solstice Hike – Saturday, December 18- 10am
---
Chainsaw Training- level i
march 27th & april 24th
(each date is the same course)
9 am – 4 pm       Ages 18+
General Public: $200
Farmers/students 18-24: $150
Limit 8 people
Scholarships Available
Led by Certified Arborist, Melissa LeVangie Ingersoll, these workshops will help any newcomer learn safe and effective ways of using the chainsaw.
No experience is necessary. Equipment is provided.  (If you have a hard helmet, PPE, or a chainsaw, please bring it.)  Dress with long sleeves, pants and boots and prepare for weather.
Space is limited. Please email Aretha for more information– email hidden; JavaScript is required
---
Art workshop series
Greenagers is proud to have Tia Maggio leading an exciting art workshop series at April Hill! Come and learn creative painting and drawing techniques- this series works for artists at every level. Tia pulls her inspiration from nature as "it is the only thing that really makes sense to me – wild sunsets, storms, brambles and branches." Once described as a tonalist, she describes herself as a nature based expressionist. Her pastels of sloping Piedmont hills and skies have been exhibited locally in Northern Virginia and New York City, and are in private collections in the U.S., Italy, Southern France, and most recently, Guatemala. Materials provided, space is limited- please RSVP to email hidden; JavaScript is required
$35 for each class or all three classes for $100
Scholarships available
Wednesday May 5th    4-6 pm
Celebrate Mayo! Mexican Folk Art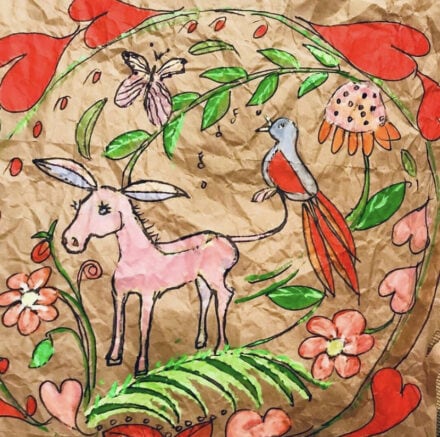 Wednesday May 12th    4-6 pm
The View Outside my Window: Create 6 vignettes inspired by a brief nature walk around April Hill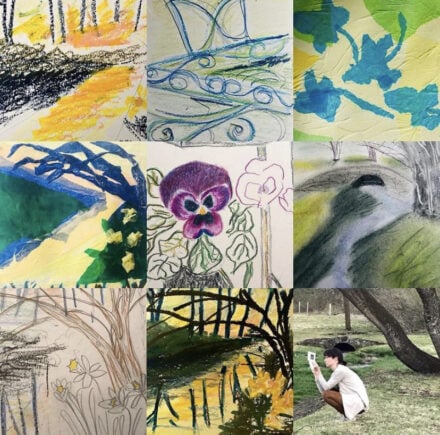 Wednesday May 19th    4-6 pm
Early Harvest, Drawing and Painting from April Hill's early produce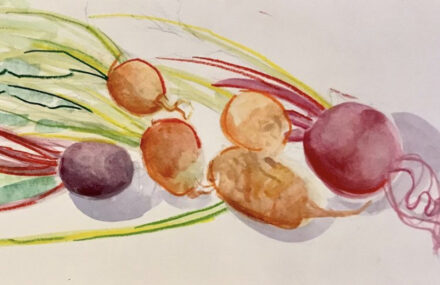 ---
fine wood refinishing workshop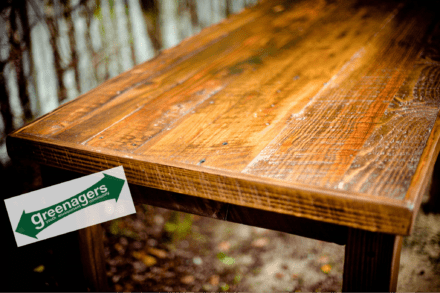 Saturday, May 8th       10 am – 12 pm
This workshop is led by our April Hill Steward and skilled carpenter, Yuri Whitehead. Bring your favorite piece of furniture and learn all the basics on refinishing your piece to make it look beautiful and new!
Materials will be provided. This workshop will be held outdoors so dress accordingly.
Suggested donation- $20. Space is limited so please RSVP to

email hidden; JavaScript is required
---