April Hill Conservation and Education Center is proud to host events and offer workshops and classes for the community!
Led by knowledgeable guests and Greenagers staff, our workshops cover myriad topics, all with the primary goal of teaching important skills and connecting our community through food, farming, conservation, and friends.
April hill conservation and education center
62 Undermountain Rd., South Egremont, MA 01258
---
The Mohican Journey: Homelands, History, and Hope Exhibit
Mondays-Fridays, May 6-26:  9am–12pm
Saturday, May 6:  12pm-2pm
Saturday, May 20:  10am-12pm
Greenagers is honored to host The Mohican Journey: Homelands, History, and Hope.  This exhibit is a collaboration of the Stockbridge-Munsee Band of Mohicans, the Sheffield Historical Society and Mt. Everett High School. The exhibit follows the history of the Muhheconneok, the "People of the Waters that are Never Still" by tracing the tribe's journey from their ancestral homelands in the Berkshires to their present home in Wisconsin.
This exhibit is free and open to the public.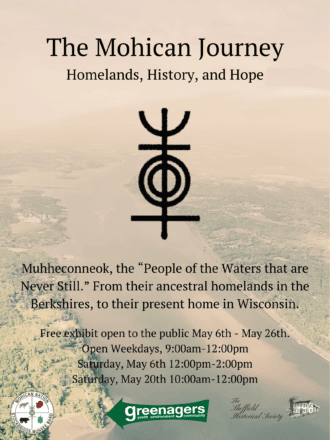 ---
Saturday, may 20: watercoloring at april hill – presented by the councils on aging of egremont & mt. washington
THANK YOU FOR YOUR INTEREST! THIS WORKSHOP IS NOW FULL.
Join us Saturday May 20 from 10 a.m. to noon to create watercolor paintings, inspired by the beautiful April Hill landscape. This outdoor workshop will be led by Ellen Murtagh, a local artist who delights in engaging people of all ages and all abilities in playing around with art.
Open to all ages, from age 10 up
Paper, water color paints, and brushes provided
No charge to participants
Limited to 16 people
Registration is required. Registration deadline is Wednesday, May 17th.
In case of rain, the workshop will be held in the April Hill Barn.
This event is part of the "Something for All Ages Workshop Series" conceived and sponsored by The Councils on Aging in Egremont and Mount Washington.
---
Saturday+Sunday, June 24+25: Wild Med Wilderness First Aid Certification
Learn to prevent and treat a wide range of medical emergencies you're most likely to encounter in nature:  
CPR for Adults, Children, and Infants

Hypothermia, Frostbite, Heat Exhaustion, Heat Stroke

Use of an AED

Musculoskeletal Injuries

Bleeding Control

Shock

Head Trauma

Allergies/Anaphylaxis

Tick Bites

Narcan Administration

Burns

Tourniquets
Cost: $300/person
---
Berkshire BioBlitz
Saturday, September 23 – Sunday, September 24
The BioBlitz is an action-packed 24 hour biological survey: equal parts educational event, scientific endeavor, and community service. Scientists and community members come together to see how many species they can identify and count. This year's survey will take place at April Hill and the Bow Wow Woods from 12:00 noon September 23 to 12:00 noon September 24.
The Berkshire BioBlitz is organized by the Berkshire Environmental Action Team and the Nature Academy of the Berkshires This year's event will include scheduled walks and activities for the public as well as presentations from specialists.
More information is available at https://www.berkshirebioblitz.org/
Interested in volunteering? Contact: berkshirebioblitz@gmail.com
---
Saturday+Sunday October 14+15: Game of Logging Chainsaw Use Certification
Join us at April Hill to kickstart or strengthen your chainsaw skills. Greenagers and Game of Logging will provide PPE and chainsaws.
Level 1 and Level 2 workshops available during both sessions:
Level 1 focuses on introducing the participant to open face felling and the development of techniques to safely use it. Topics covered include personal protective equipment, chainsaw safety features, chainsaw reactive forces, bore cutting, pre-planning the fell, and understanding hinge wood strength.
Level 2 focuses on maximizing chainsaw performance through basic maintenance, carburetor setting, and filing techniques. Limbing and bucking techniques are introduced, spring pole cutting is covered and more felling is practiced.
Cost: $300/person
---
FARM WORKSHOP SERIES
This is FREE series led annually by our Farm Director, Sarah. There are hands-on activities for every skill level, from beginner gardener to professional. Bring the whole family to our wonderful community farm! Check back soon for the 2023 workshop list.
---