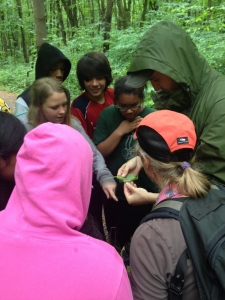 This summer, Greenagers is hosting a summer day camp for SBRSD middle school students. This program will run Mondays through Thursdays from 9am-3pm starting July 5th and ending August 4th. Through this program, we hope to introduce participants to the trails, farms, and conservation lands of the Southern Berkshires. Activities will include hikes, canoeing, farm visits, and service projects with our community partners.
These partners include The Nature Conservancy, Appalachian Trail Conservancy, Sheffield Land Trust, Indian Line Farm, Trustees of Reservations, and many more. One special project for this summer's group will be helping to tend the newly revitalized school garden that will provide food for the school cafeteria.
Our main goal with this program is to provide engaging, thought provoking activities that promote a deeper connection with our local resources. Greenagers instructors foster a welcoming, communicative environment. Through this, students develop stronger connections with each other and our region's special places.
The leader of this summer's program will be Justin Torrico, a Mt. Everett alumnus with a deep passion for our local landscape. Justin has diverse skills in education, agriculture, and conservation that he brings to the program. He will be joined at times by other Greenagers staff, as well as staff from our community partners. The tuition for this summer program is $500 ($100/wk). We ask that students attend all five weeks. If financial assistance is needed please contact our office.
We will base our program operations at the Yellow House on Mount Everett campus and drop off and pickup will occur there, unless special arrangements are made. If you need help getting your child to or from this program please do not hesitate to contact us.