"Go Pig or Go Home," a day of farm-inspired contests, benefitS Greenagers
If you've never run a wheelbarrow race, herded a pig, competed in a gourd toss, stacked hay bales or taken the moo juice squeeze challenge, you have yet to truly appreciate the life of a farmer. Now's your chance.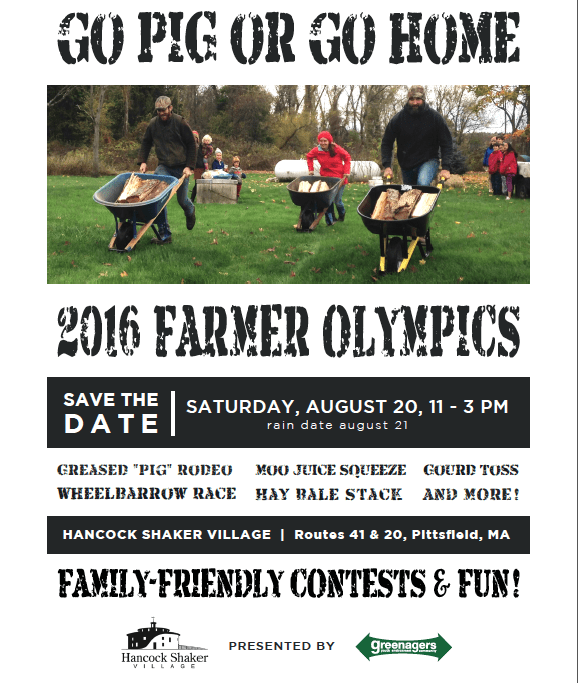 On Saturday, August 20, from 11 am to 3 pm, you'll get your chance when Greenagers launches its fundraising event, "Go Pig or Go Home: The 2016 Farmer Olympics," at Hancock Shaker Village.
Aspiring farmers will team up on the Shaker site to compete against each other to benefit Greenagers, the Great Barrington-based nonprofit that provides outdoor jobs and environmental education programs for teens and young adults.
There will be contests and races for individual and team competitors of all ages, adding even more fun to a typical summer day at the Village. The Moo-Juice Squeeze, the Grain Bag Toss, the Wheelbarrow Waggle, and the Hay Bale Stack are just some of the contests on the roster.
Every summer, Greenagers' youth work crews fan out to work on area farms alongside experienced farmers, help maintain outdoor recreational properties, and build Front Lawn Food gardens for families interested in yard-to-table raised-bed vegetable gardens.
Greenagers has expanded its programming north to the Pittsfield area, where youth teams will provide agricultural and farm work at Hancock Shaker Village.
Farmer Olympic Registration Information:
Farmer Olympic Participants
Participant registration includes admission to Hancock Shaker Village for the day. Participants are encouraged to pre-register by emailing

info@greenagers.org

or by calling Greenagers at 413-644-9090. Participants may register the day of the event at the Greenagers registration table, which will be located at the entrance to Hancock Shaker Village.

$15 for individuals 12 or older
$25 for team of two
Free for 11 and younger
To register: email office@greenagers.org, and we will contact you!
Farmer Olympic Spectators
If you would like to cheer on Farmer Olympic Participants and watch the events from the sidelines, you may purchase discounted admission tickets to Hancock Shaker Village the day of the event. Please mention that you are a part of the Greenagers group when purchasing your ticket at the Ticket Desk.
$15 for spectators 18 or older
Free for spectators 17 or younger
About Greenagers
Greenagers provides jobs and volunteer opportunities for teens and young adults interested in sustainable farming, conservation, and environmental leadership. Through vocational-environmental programs and community engagement, Greenagers prepares youth for success in education and work. For more information, call 413-644-9090 or visit greenagers.org.
About Hancock Shaker Village
Home to several hundred Shakers for almost two centuries (1784 to 1960), Hancock Shaker Village is now an outdoor-history museum dedicated to preserving the Shaker legacy. Situated on 750 acres of picturesque farm, field, and woodland in the bucolic Berkshires of Massachusetts, the Village provides visitors with an authentic Shaker experience. This National Historic Landmark is an active museum housing a premier collection of 22,000 authentic Shaker items (furniture, textiles, gift drawings, tools, and other artifacts) among 20 historic buildings.
Farming was at the center of all Shaker communities, and Hancock features a working farm and gardens of heirloom medicinal herbs, flowers and vegetables. Outside the historic Village is a modern visitor center, store and cafe. Hancock Shaker Village offers a variety of programs, tours and workshops for visitors. For more information, visit hancockshakervillage.org or call 413-443-0188.