Yard to Table: Greenagers' Front Lawn Food program seeks donors to support family gardens — and to receive a Donor Garden of their own

Greenagers is transforming the farm-to-table movement to something even better: "Yard-to-Table" food for all — and it's time to sign up for the 2016 planting season!
For the second year, Greenagers' is expanding its "Front Lawn Food" program for wider availability to families and businesses, in South County and in the Pittsfield area, in partnership with the Berkshire Community Action Council.
In addition to constructing and planting gardens for income-qualified families with young children, Greenagers "Donor Gardens" — now in its second year — enable Greenagers and BCAC to offering broader access to geographical and demographic availability of gardens for home-grown food.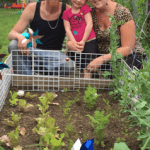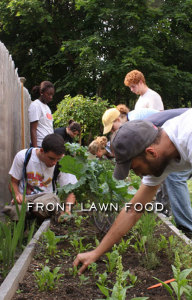 In exchange for a tax-deductible Greenagers donation, Greenagers' teen garden crews will show up at your house or business to install one or more Donor Gardens, a fully-constructed and planted vegetable garden—complete with a winter hoop enclosure. The Greenagers donation covers the Donor Garden garden cost and also subsidizes a free garden for another eligible family in the community.
In the past, Greenagers' Front Yard Gardens were limited to 10 per season for income-eligible families with children, at no cost. However, interest each year was far broader than the list of 10 would allow, so Greenagers has sought to meet demand in a manner that supports additional family gardens.
"Each year we receive requests from far more people than we can accommodate, and not all families have children, as our core program requires," said Will Conklin, director of Greenagers. "Since we know there are individual and businesses that are more than willing to pay for a garden, especially if they know their donation will assist an eligible family, we developed the Donor Garden program, and also built a new collaboration with BCAC for this program."
The gardens include a 4×8 foot bed, filled with organic soil and planted with vegetables of the donor's choice. The gardens include a hoop roof for winter growing as well – for year-round produce. Greenagers youth garden staff are available to assist with advice and periodic visits. For donors who want two or more gardens, a reduced donation is possible.
Interested in one family's Front Yard Food garden story? Read more.
Information: [email protected], or visit greenagers.org; or call 644-9090.