The concert will take place rain or shine!
All proceeds support Greenagers' programs for youth environmental stewardship. The event will be under a tent on the April Hill grounds at 62 Undermountain Road, South Egremont, MA.
Please note: Our event will take place under a tent, with normal seating arrangements. Although CDC and state guidelines no longer restrict outdoor gatherings, we ask that our guests take their own vaccination and health status into account when deciding to attend, and/or wear a mask during our outdoor event.
This program is Presented By:

We are very grateful to all of our generous sponsors:


 Greylock Federal Credit Union, Lee Bank Foundation, Main Street Hospitality Group, Race MT Tree Services
Tickets (all ticket purchases are tax deductible as listed below):
Sustainers – $1000 each ($960 tax deductible), includes top seating and a post-concert reception with the artists SOLD OUT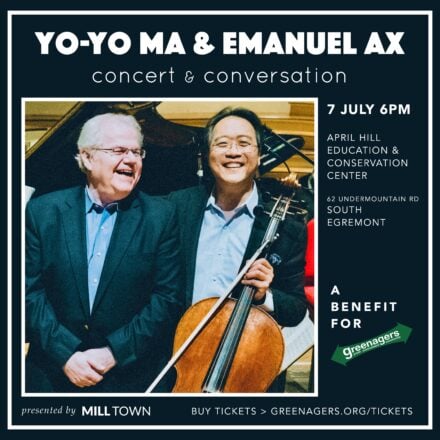 Trailblazers – $500 ($480 tax deductible) each – 2nd section seating SOLD OUT
Barn Raisers – $250 ($230 tax deductible) each – 3rd section seating SOLD OUT
Please join us at April Hill on Wednesday, July 7th, for a concert to celebrate Greenagers and to honor its mission of community service.

Greenagers is a wonderful example of culture at work.  Partnering with environmental conservation organizations, community foundations, youth groups, and local farmers, their programs provide opportunities for younger generations to gain valuable skills and experience in the best of modern, sustainable practices.  Continuing the long traditions of stewardship for the land, traditional trades, and care for the community, Greenagers is the best of Berkshires culture – remembering our past as it imagines and builds our future.

We work with our hands all the time, and so we are especially excited to add a little support to Greenagers, where young people learn to use their hands to make the Berkshires a more wonderful place for all of us.

We hope you'll join us on July 7th as we showcase the culture of giving back through service with Greenagers.

Yo-Yo Ma and Emanuel Ax